Agriculture Cultivating

Natural Zeolite
NO.Special

Natural Zeolite
NO.SP2300
Japan Origin.
Help root growing with stronger leaves and branches without damages occured because of coldness.
Absorb the harmful gas in the soil and prevent the root system being infected.
Neutralize soil pH and deodorize after fertilization.
Japan Origin
Soluble granule, 95% purity
Decrease fertilizer-caused harm
Can be used with organic and non-organic fungicide and insecticide
3. Natural Calcium Sulphate- Tencal (Granule /Powder)
Japan Origin
Contain 95% calcium sulphate
Help crops absorb calcium and ion from the soil
Increase the ability to resist cold and combat diseases
A soluble natural and eco-friendly soil modifier
Especially suitable for paddy rice, vegetables and fruit trees

Phosphorous
Acid

Potassium
Hydroxide
Non-pesticide Compound for crops management
As a phosphorous/potassium fertilizer for crops
Transfer as an useful phosphoric acid after absorbing by crops
Crops will not have insecticides residues with no environmental pollution
Naturally lead crops resist to diseases to reduce using insecticides and the cost while producing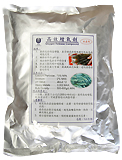 1kg
Supply oxygen constantly and continuously and help the root zone breathe well.
Provide calcium which is necessary for plants' growing
Adjust pH value and prevent ammonium and nitrogen
Stop anaerobes to proliferate
Debalin is very effective against all kinds of microorganisms, bacteria, spore formers and algae by disrupting transport of nutrients across the cell wall. It is effective against Listeria, Salmonella, and E. coli, just to name a few. The low dosage of chlorine dioxide can achieve a satisfactory result .It does not take a large amount of product to get a 99.999% kill.
A natural insect repellent for nematode, underground pests and apple snails
Safe for human beings
An organic nitrogen fertilizer to help plants grow better
8. Wood Vinegar
Japan Origin
A plant extract liquid, not a chemical product or an insecticide
Foak strongly in the soil to control soil diseases and harmful organisms