Livestock / Poultry Farming Product Recommended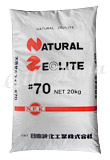 Natural Zeolite
(Japan Origin)
Posses an excellent Cation Exchange Capacity (C. E. C.) 160~185 meg/100g.
Reduce the smell by spreading Natural Zeolite around the animal house.
Keep intestinal health and enhance the ability of nutrition absorption for livestock/poultry.
Prevent the difficulty of digesting through absorbing NH3, H2S, CO2 and harmful substances.

22.68 kg
50 lbs

22.68 kg
50 lbs
Enhance animals' immunity and reduce parasites.
Supply minerals and vitamins.
Improve animals' appetite and digestion.
Increase the quantity and quality during lactation to lower feed cost.
Enable to make animals' excrements drier and reduce problems of smell and flies.
Contains no antibiotics and no medicine resistance.