Aquaculture Breeding > Products for Outdoor Culture Ponds >
Nutritional Additives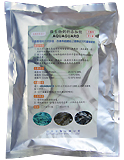 1kg
U.S.A. Origin
Help grow well and enhance immune system; a natural product without side effect to fish/shrimp/eel/clam; no resistance, no residuals.
Absorb toxin efficiently and reduce Mycotoxin which always existed in the raw materials of feeds.
Control White Spot Disease and Yellow Head Disease; stop infectious diseases that are caused by Vibrio bacteria.
Enhance immune system and increase the survival rate of fish/shrimp/eel/clam.
Made of nonpathogens bacteria and enzymes, so diseases are effectively minimized.
Improve the water quality by absorbing NH3, H2S and NO2, those are harmful to fishes and shrimps.
consists of several essential amino acids,such as lysine and methionine.
contains rich vitamins and minerals.
helps to digest and improves growth.
manages water quality in aquaculture and be a amino acid fertilizer in agriculture as well.